Flamboyance of Flamingos by Bryony Knox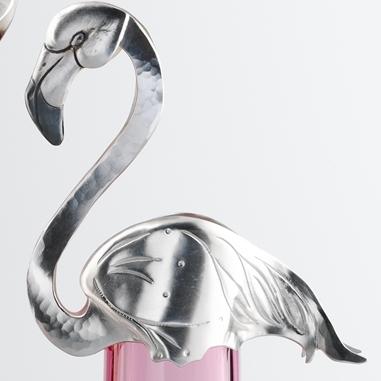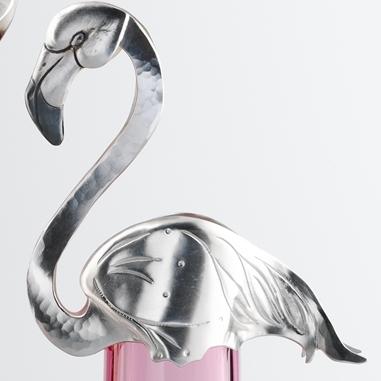 Flamboyance of Flamingos by Bryony Knox
Flamingo sculptural silver and glass vases by Bryony Knox.
These flamingo sculptural bud vases would look elegant in any home. Inspired by sketches Bryony made of the flamingos at Edinburgh Zoo whilst she was Silversmith in Residence.
Each sculptural flamingo has a different character and sits on a different height vase.
Silver and pink glass.
Dimensions: 35 x 3 x 3 cm, 25 x 3 x 3 cm, 20 x 3 x 3 cm
£800 each or £2250 for the trio.
The vibrant pink glass has been blown to Bryony's designs by Loco Glass in Cirencester.
Hallmarked in Edinburgh.
Packaging: Black box with Bryony Knox logo and tissue.
Dispatch: All items will be shipped within a week of being in stock. Most items are made to order, so please contact me about specific timelines.
At the moment, Coburg House can only offer shipping within the UK. For shipping outside the UK, please contact the artist.
For Bryony's full collection, please visit her website.
(images by Shannon Tofts)